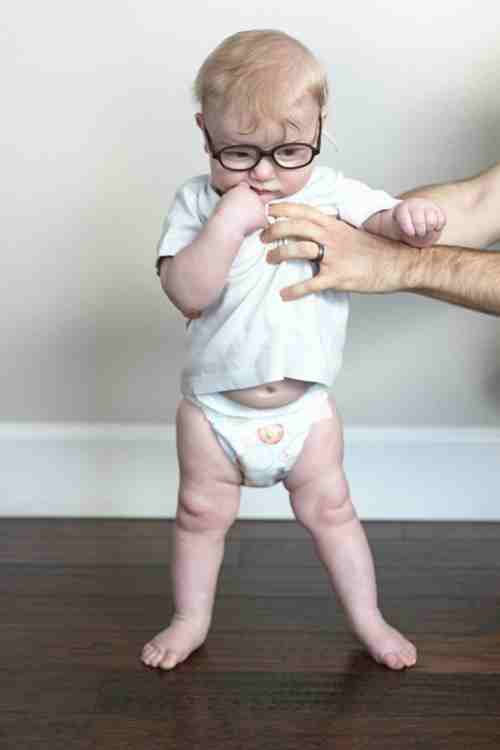 stats | 21 lbs (entirely in 18 month clothes now)
eat | 7- to 8-oz bottles, some solids. we're working on getting you to eat solids more frequently, but you've been sick most of the last month! in fact, you're sick again today and just want to sleep in your bed all day. :( but when you're healthy, you love the usual: eggs, salami, ground beef, avocado/guacamole, blueberry & purple carrot teething biscuits, veggie straws, and green pea crisps. you're finally close to learning the pincher grip, and are starting to pick up food with your hands.
sleep | you aren't the best sleeper. we still have to dream feed you (what?!) or you'll wake up several times at night for hours at a time. (you just talk to yourself for an HOUR — yes this drives Mama craaaaazy — and eventually start crying and fall asleep again.) you haven't really been on a schedule since you've been sick so much lately. but I try my best to give you a nap from 9:15-11:15, and then from 2:00-4:00. you think 6am is a good wake-up time, but we're trying to teach you 7am is better. ;)
play | you love to play with your brother's toys! he loves to take them away from you, but we're working on that. :) it's incredible — in the past month since you got glasses, you've started sitting up AND crawling! you're scooting/army crawling everywhere. your favorite places in the house to go are the vent by the front door (it makes a scratchy sound you like), and the back sliding door to the backyard (you love to play in the curtains). you'll play peekaboo and crawl around the couch with Jack. you also love to scoot all the way to the kitchen to find Mama's feet. :) You're quite curious these days. you also grew two teeth on the bottom!
Owen, it's incredible how much glasses have changed your life. I know you still can't see perfectly (and never will), but magnifying things sure has been good for you! We're so proud of you.