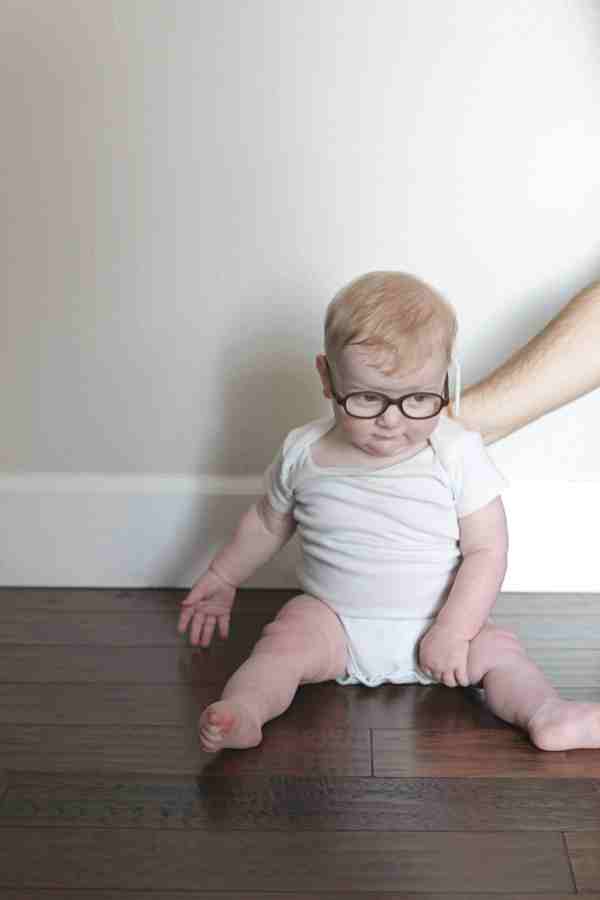 stats | 19.5lbs, 28″ (outgrew his 12 month onesies and is now in 6-12 month pants and 18 month onesies!)
eat | I still don't feed you solids on a routine yet. I'll feed you bits of food here and there, and you seem to like it. You just don't reach for them, but unless you just had a bottle, you rarely turn them down. You don't like purees, except guacamole. Somehow you know that's supposed to be eaten with a spoon. ;) Favorite foods include scrambled eggs, avocado, banana, chicken, sweet potato, and puffits. Oh, and you love cookies, too. :) Still drinking about five 7-oz bottles a day, though some days it's less than that.
sleep | still sleeping great at night (except the occasional 3am wake-up call…what are those all about?) but taking short naps during the day. I'm lucky to get an hour out of you for your morning nap, and 40-minutes for your afternoon nap. You do sleep in the ergo, though, if we're out. You are so snuggly, little Owen.
play | you just got glasses! everyone calls you a little hipster, especially when I put you in a hat, too. (And we also get a lot of, "wow, he is such a smart baby!" yes, yes he is.) +2.5 and +3 for now — that prescription might go up in the coming months. I was so worried you weren't going to keep them on (because we've battled with your sunglasses for the past four months) but you don't touch them! we will get you prescription sunglasses soon. I love that you can see me from about a foot and a half away, not just 8″. :)
You love playing on your tummy, and inspecting toys very closely before putting them in your mouth. You're really close to sitting up all by yourself but it doesn't seem to be a skill that you're itching to master anytime soon. So when I set you on the ground sitting up, you roll onto your tummy right away. I think you like to be closer to your toys.
You really have come out of your shell lately, little Owen. You're such a delight to be around, and even though it isn't the easiest to make you smile, you are really very sweet and easy-going. You love to give kisses (big, open-mouth kisses on my cheek, where you grab my face and hair) and hugs. I think your favorite person is your brother Jack — you light up when you see his face. He makes you giggle the most out of any of us.
Love you, little Owen. Keep growing big and strong, and the world is yours to conquer.