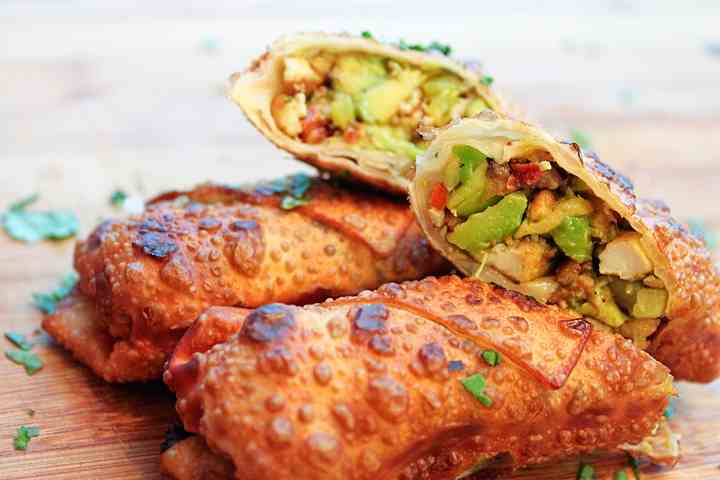 I've only been to The Cheesecake factory three times. Two of those times I have ordered the avocado eggrolls while the rest of the table swooned in jealousy.
So because I had two avocados and was missing more than half of the ingredients I needed for my tofu spring rolls last night, I regrouped and began making my version of avocado eggrolls. And I do declare that they were delicious.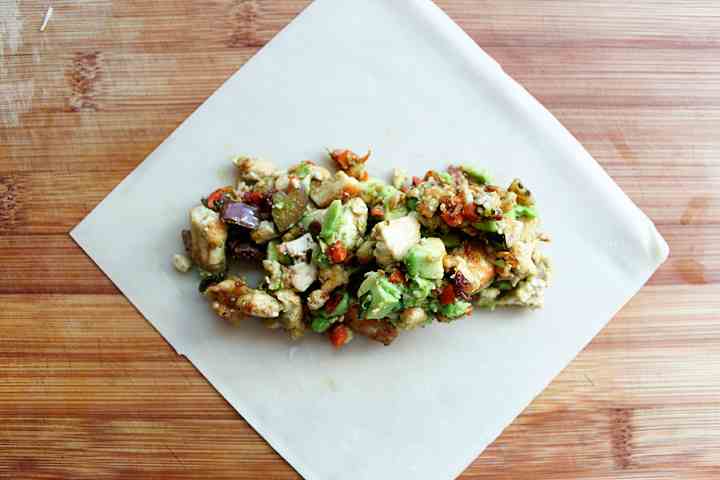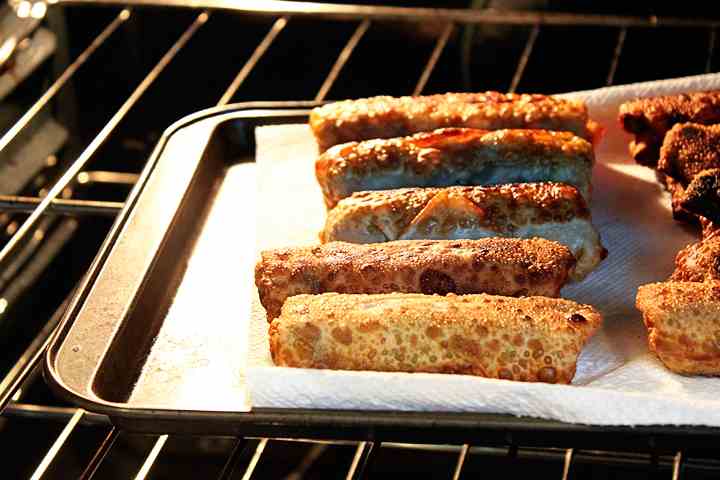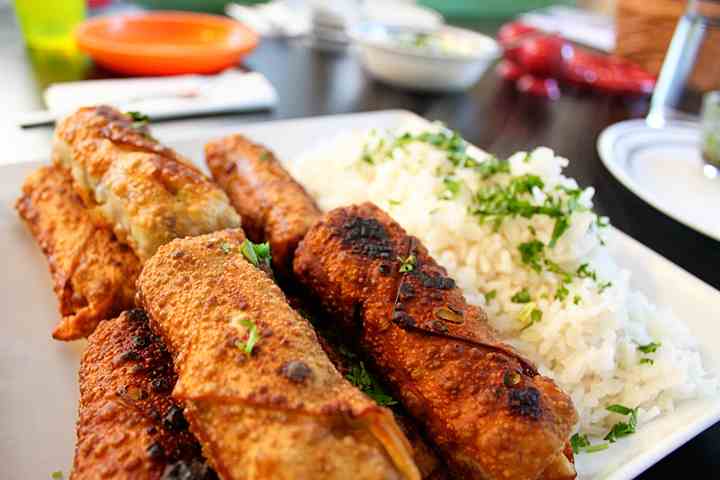 Here is my basic, didn't-measure-anything recipe. So please, as with EVERYTHING you cook, taste as you go along! And salt & pepper the heck out of it because these babies deserve it.
Avocado Eggrolls with Cilantro-Agave Dipping Sauce
If you're not a big tofu person, feel free to omit it, adding in more eggplant and carrot instead. Taste as you go until the flavors are just how you want them. Also, I feel that the dipping sauce is essential and adds an extra depth of flavor and sweetness.
These come together quicker than you'd expect, and if you're crunched for time you could even make them in the morning, keep them in the fridge, and bake/fry them at dinnertime. I served them with marinated cucumber and white rice.
10-12 eggroll wrappers
1 package of firm tofu, pressed (brief instructions here)
1/2 carrot, shredded or finely minced
1 heaping T. sundried tomatoes, minced
1/2 japanese eggplant, diced into 1/2″ pieces
2 green onions, diced
2-3 avocados, diced
splash of sesame oil
1 t. brown sugar
s&p
Heat a bit of oil in a large skillet. Crumble up the tofu and add to the pan, cooking until golden and dry. Season well with salt and pepper. Add the carrot, sundried tomatoes, eggplant, and green onions, and cook until eggplant and carrots are softened. Turn off the heat and add your diced avocado. Season with a splash of sesame oil, brown sugar and salt & pepper to taste.
Spoon about 2 heaping tablespoons (more or less, I just filled a soup spoon twice) into the center of your eggroll wrappers. Follow the instructions on the eggroll package for how to fold your eggrolls. (Or watch here). Make them tight and be sure to seal them with water.
Follow the directions on your eggroll package for baking these, but I pan-fried them (is there any other way?!). Heat a 1/2″ of canola oil in the bottom of a pan. While your oil is heating, turn your oven to 200-degrees and prepare a baking sheet with paper towels. When your oil is hot, use tongs to gently place an eggroll or two in the pan. My oil was hot so mine were quick – only about 15 seconds on each side. Let your cooked eggrolls sit on the paper- toweled baking sheet in your warmed oven until you're ready to serve them.
Cilantro-Agave Dipping Sauce
1/4 c. cilantro, finely chopped
1 T. agave
1-2 T. plum sauce
3 drops siracha sauce (or more, to taste)
s&p
Whisk everything together and thin out with a few teaspoons of water to create a dipping sauce.