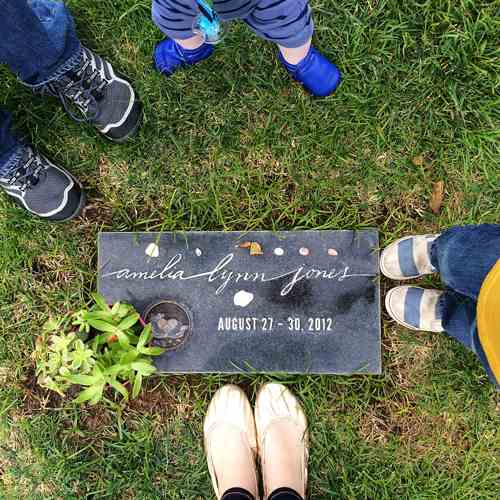 Amelia, meet your little brother Owen. Owen, meet your sister Amelia. Oh wait, you've already met her before you were born, haven't you?
Over the Thanksgiving break, we traveled to Sacramento. On the way home, we made a detour through the Bay Area and stopped by to see baby Amelia. We brought her seashells and seaweed from our beach, and a succulent instead of flowers, because that's all that I can seem to keep alive in our new house. ;)
It's a weird feeling, bringing your new baby to visit your dead baby. I don't know if it's bittersweet or happy or what. But I realized that it isn't as painful to visit her when I have a new babe in my arms. It broke me a little when I was newly pregnant and leaving her to move to San Diego last year, but now that Owen is here that pain has subsided. I don't wish she were here instead of Owen anymore. I didn't go to the cemetery with the same family she left us with. I haven't forgotten her, but we've learned to live life without her.
I still think about you, Amelia. Every single day when I load the boys up in the car, I think to myself, "there should be a third carseat back here." But there isn't. And every time I see a little toddler girl with blonde curls, I picture you in our family. I think of the pictures you would have drawn me and the dolls we would have had around the house among the cars and airplanes. I think of you when I bathe the boys. I think of you when I do the laundry. I think of you when I learn more about albinism. And I think of you when I'm sitting in church. Miss you, Amelia, and all that you could have been.