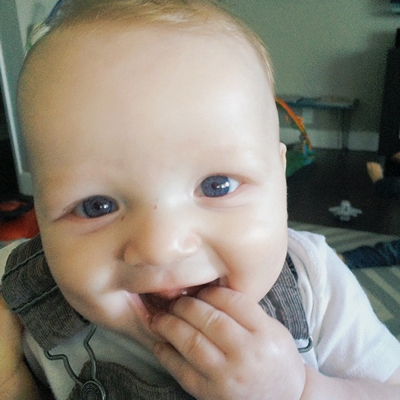 What a crazy journey this has been. Motherhood has been so kind to me and yet so unforgiving and relentless at the same time.
There are moments in my life — little slices of time, rather, that I will never forget. The first (and only) time I was sent to the principal's office. Sleeping on the floor of the bus for marching band. Being married and sealed to Tyler. Being in labor with Jack. Hearing Amelia's awful diagnosis while she kicked inside of me. Hearing Jack speak a two-word phrase for the first time. Watching Amelia die in my arms.
Two months ago I experienced another snippet of my life I'll never forget — we sat in the ophthalmologist room and learned about Owen's albinism. I left there confused and scared, not knowing whether the baby in my arms would ever see at all.
I remember crying the entire week prior to that appointment. I slept about three or four restless hours every night leading up to our appointment. I knew something was wrong with his eyes, but I didn't know what. Don't they tell you the worst part is not knowing?
And then we finally knew, but there was nothing we could do. It's a waiting game, and you hope it gets better.
This week, it did. Owen can finally see me.
I cried the first time it happened, and I've been in tears ever since. Every single time my baby sees me I just can't even hold it the joy I feel. (And he can't either! Words cannot even describe our delight.) It's a moment that when we lock eyes, still feels like the first time, every time. Sight is something I will never, ever take for granted.
We've tried our best to treat Owen like a normal baby (because he is!) but there are also exceptions to the rule. He doesn't see as well as other kids. He can't see you smiling at him from the pew behind us. He won't laugh when you stick your tongue out at him and make a silly face. And all of these are still true today. He's the same and yet so different than other babies.
But at almost 5 months old, now he sees me, he knows me, and he loves me. He reaches out his big bear paw hands and grabs a hold of my face to give me the drooliest open-mouth kiss. And if I'm really close (and have a bit of luck on my side), he'll catch my eye and smile at me. He sees me smile back at him, and that makes him start to giggle. It turns out he's just as excited as I am to have a friend.
Do you think Jesus wept tears of joy along with the people he healed? I didn't even heal Owen but I feel like I'm experiencing just a sliver of that joy that Jesus might have felt as the bystander to a miracle. It still amazes me every. single. time. There are tender mercies every single day with this kid. Just when I don't think he can, he proves me wrong.
These moments are so delicate and sacred to me. I feel so blessed and humbled that I get to experience Owen's milestones from such a unique perspective. They aren't always on time like they "should" be, but when they do come I can tell you they are TEN TIMES SWEETER.
(I'm not the best at recording Owen's milestones here on the blog…can I blame it on his 45-minute naps? But I make sure each and every one is on my instagram — follow me @delightedtobe, or click on the camera logo on the left side of my blog.)