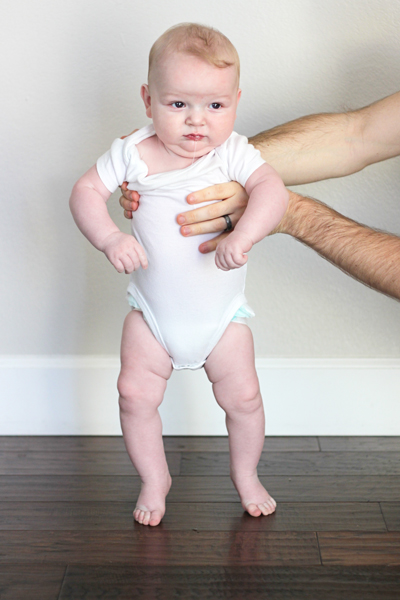 stats | 17.5lbs, 28″ tall
eat | nothing's changed here. you eat a 6-oz bottle every four hours during the day. I'm thinking of starting solids on you because I think you'd find avocado just as enjoyable as I do.
sleep | you still sleep all night — but I wouldn't necessarily call it sleeping. more like you can make it from your 10pm dreamfeed to 7am without eating. but lately you've been quite chatty in your bedroom at the strangest hours of the night. so this morning I decided your binky had to go — I am tired of it falling out and you waking up in a panic! we shouldn't be losing sleep over such silliness! I feel like I am sleep-training you all over again. Mama is tired.
play | you recognize mama and daddy's faces now! it's still the most exciting thing that still brings tears to my eyes. you love toys — the jumperoo (it's a dang monstrosity, but you love it!), Jack's airplane, wooden teethers, and — wait for it — blankets. you are constantly shoving fabric into your mouth! Jack does this still as a four year old, so I suppose it's only fitting. you're still super snuggly, and will still fall asleep in my arms if needs be. you're fantastic at keeping your sunglasses on (high five!) when I'm holding you, but as soon as you're in the carseat or the stroller, you rip them off. you love to talk, and if you recognize a face close up, you love to smile at it. sometimes you even giggle. daddy has nicknamed you "oh-wee". you drool a lot these days.
love you, my little fair-skinned baby.