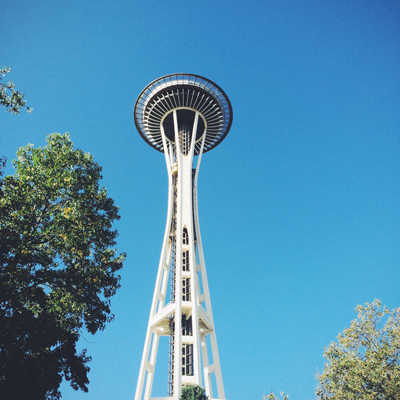 SEATTLE!
We try really hard to take a yearly vacation, and this year we went to Seattle! We had the best weather – about 80% of the trip, the skies were clear and blue. Our hotel was just a few blocks from the space needle, and had a shuttle that took us within a mile of the rest of the city. We utilized the shuttle a few times, but Tyler and I love to walk, so most of the time we loaded the boys up in the stroller and off we went!
Here are some highlights: (for more pictures, you'll have to follow me on instagram @delightedtobe)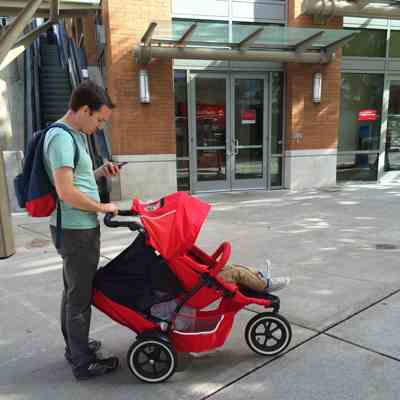 I should mention that for a while, I was on the hunt for a new stroller. We really need more sun coverage for Owen than this one provides. I borrowed a double BOB from a friend and loved the sun shade, but ended up missing the flexibility of my inline phil&teds, where we can make it a single or double stroller according to our needs. So at the suggestion of another friend, I emailed phil&teds with our sun predicament and they graciously sent us a UV cover for the back doubles seat! We loved it so much on our trip we ended up ordering one for the front as well.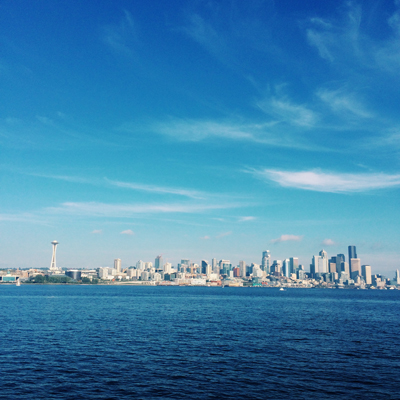 We ended up buying discounted City Passes through Tyler's work, and they were well worth the money. And again, we totally lucked out with the weather – look how clear the horizon was on our bay cruise!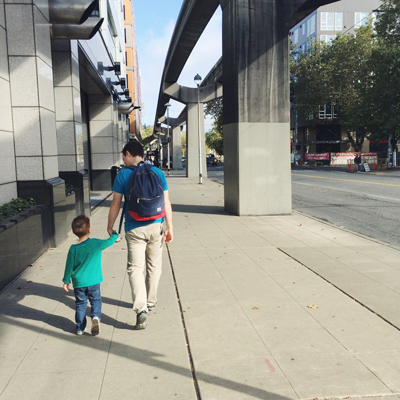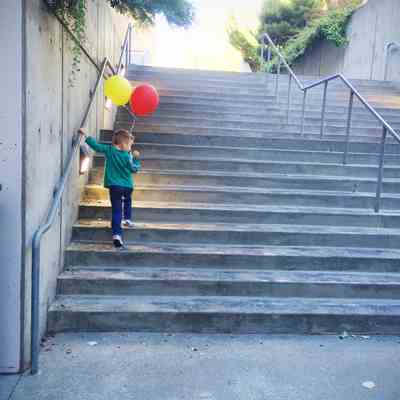 (Someone graciously gave Jack balloons when we were out walking about.)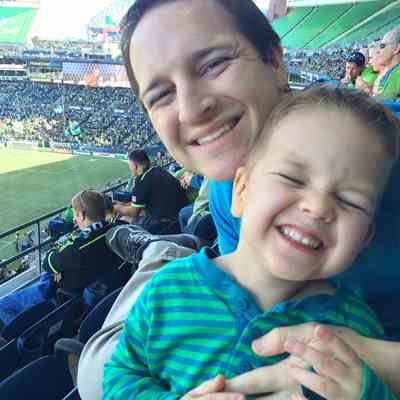 When we got there, I surprised Tyler with tickets to the Seattle Sounders game! He's a huge fan of soccer, and loved it.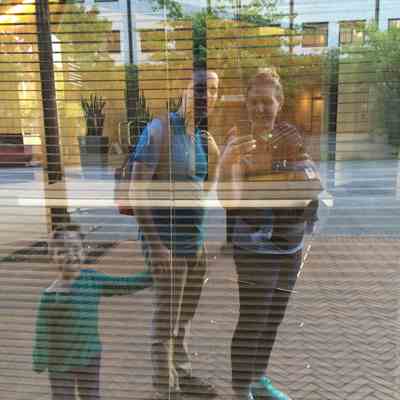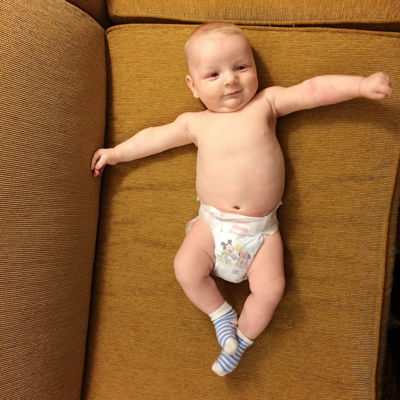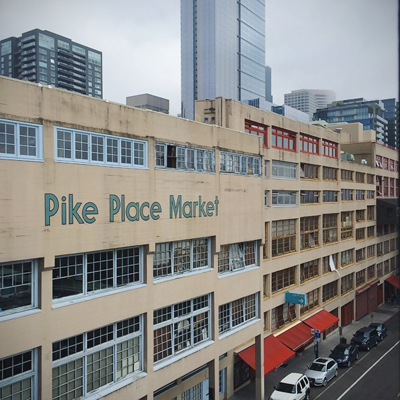 Pike Place Market was cool! We loved all the little food vendors and the flowers. We didn't take anything home, but we did buy some donuts on one of our trips. ;)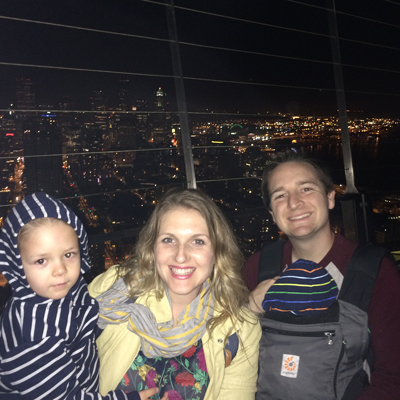 If you get the City Pass, you can go up in the space needle twice – so we went once during the day and once at night. Totally different view!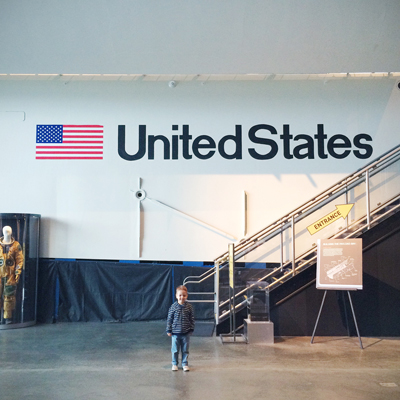 The Museum of Flight was cool, but I wish we had a car to drive out there. I think 3 days were fine with trains, busses, and shuttles, but the last two days we would have benefitted from a car. (We had one the last day). It's a ways outside the city, and I'm not sure it was worth our time on public transportation to get there and back.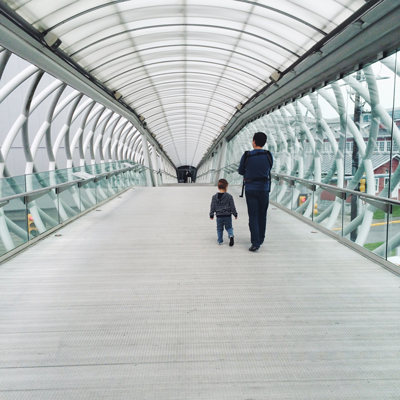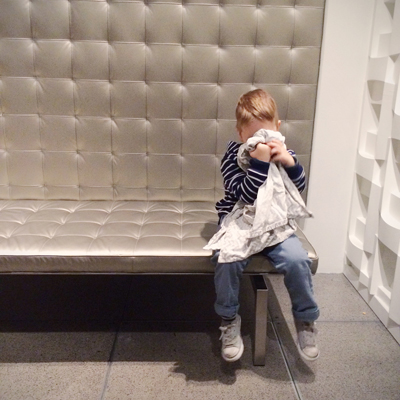 One of our favorite places was the EMP museum. It showcased all kinds of modern music. But by day 4 and 5 of the trip, it was quite apparent that this little boy really needed a nap.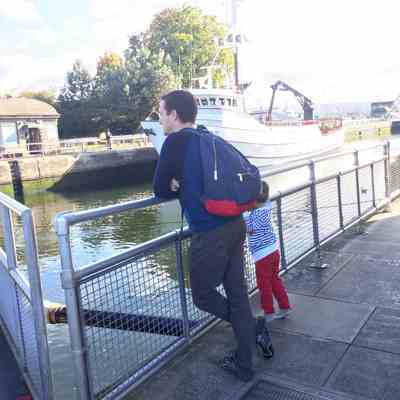 We made sure to go see the boat locks and the salmon run. It's amazing how fast they drain the water out to let the boat through!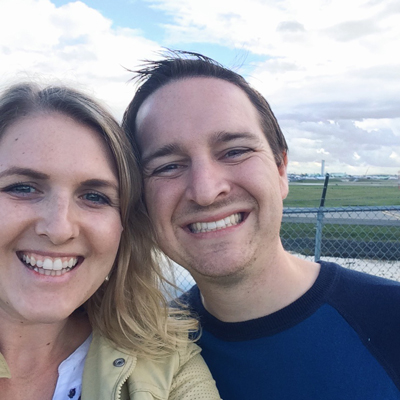 My cousin Pamela and her husband watched both kids for a few hours while we went up to the Boeing Factory. The tour was incredible and I highly, highly recommend it.
All in all we really had a great trip. I love traveling. It certainly isn't easy with kids – Jack had many, many tantrums and tears. (Totally thought Owen was going to be the difficult one, but I was wrong!) But I think we all had fun nonetheless. :)