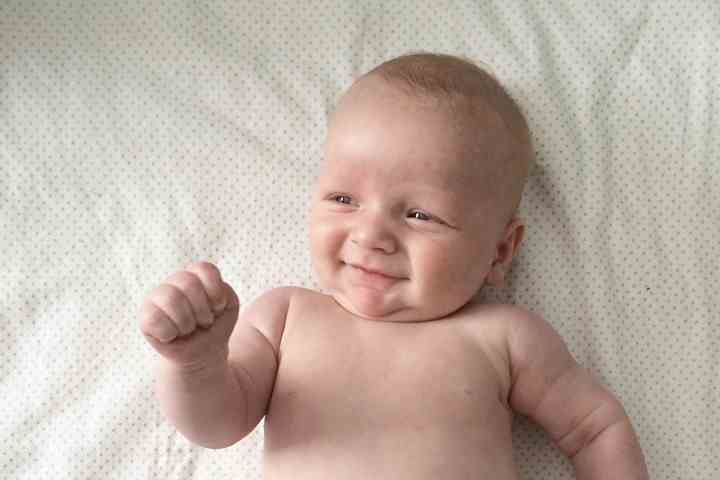 This morning was the second time in my (almost) four years as a mother that I've heard the silence. The pause when a doctor has some bad news to tell you, but can't quite find the words to deliver it.
My sweet little rainbow baby Owen has albinism.
My heart sunk deep when we heard his diagnosis. I didn't even know what that meant, but I got that achey pit in my stomach, and my lungs couldn't quite fill up with air. The room got smaller. I've been here before. I've heard devastating news like this with Amelia, I thought to myself.
But really? Again, Heavenly Father? Owen was supposed to be healthy and perfect and whole and complete. When your last child dies in your arms, shouldn't you get a break from heartache? Haven't we been through enough as parents?
Nope. Life just gets thrown at you anyway.
I've known for while now that Owen has sight problems. He can't seem to see me, or toys, or even lights most times. In the early weeks it was really difficult and frustrating to establish a connection with him. I knew him—he was my son, my little Owen. Him not seeing has become our new "normal". But admittedly it's still hard not to be hurt when your own baby won't even look at you.
When his sight should have started improving and it didn't, I suddenly knew. I had that gut feeling that something was very, very wrong, that his eyes weren't like they should be. And deep in my heart I was worried he was completely blind.
I started preparing myself for our ophthalmologist appointment. I tossed and turned and didn't get much sleep all week. I cried for days in anticipation, for fear of the unknown. I prepared myself for the worst, and hoped for the very best. And right now, I don't know where his diagnosis falls with that.
But I can tell you that God is good, my friends. Albinism is very, very rare and is genetic, and they still don't know much about it. But chances are that with time, my little boy will be able to see. Maybe not crystal clear. But maybe something. And that, to me, is a miracle.
We are going to see a geneticist on Monday to hopefully determine the exact kind of albinism it is, but we are fairly sure it is oculocutaneous (type 2). And now as I'm putting the pieces together, I think his sister Amelia (she died from anencephaly as a newborn) possibly had albinism too – she couldn't see, and her hair and eyelashes were white blonde – almost translucent.
We still have a lot of questions that need to be answered, but in short, here's what we understand:
-Albinism will mostly affect his vision. His blue-grey eyes are basically see-through, and therefore he is EXTREMELY sensitive to light. And again, putting the pieces together, that's why he won't even open his eyes outside.
-His vision is extremely limited right now (he is almost blind, but we do notice sometimes he sees high-contrast things and smiles at them – progress!), and it is supposed to improve with age. But we won't know by how much until he reaches puberty. The hardest part is it's just a waiting game until then. This isn't fixable by surgery. There is a broad spectrum – some with albinism always have really bad vision (legally blind) and others are able to drive cars. The BEST case scenario is that he will be able to drive, though he will always have blurry vision (even with glasses or contacts it will never be fine-tuned).
-And one thing we will always notice is nystagmus – his eyes will always move back and forth or "twitch". As far as we know, there isn't anything we can do about it. We will try to teach him to focus and "calm" them as best as he can.
-Also (if he is indeed OCA2), we will need to take extreme caution with his sun-exposure, too…he is very high-risk for skin cancer. Even five to ten minutes outside will warrant sunscreen, long-sleeves and pants, a hat, and sunglasses. This might be interesting, since we live in San Diego, ten minutes from the beach. Hmmm.
Owen, I want you to know that this won't hold you back. You are still brave. You are still strong.
I know I've cried all week long and all day today, but truth is I've shed these tears because I love you. Someday, if God permits, I hope you have a family of your own. And whether you like it or not, challenges will be thrown at them and deep in your heart you will cry too. You will cry because you want so badly to take their pain, their struggles, and their challenges away. And yet you also know you can't, and even if you could you shouldn't.
Little Owen, I love you so. Always, always remember that this — albinism — is a part of who you are, but does not define you or your worth. You can do anything you set your mind to, and we're going to be right here with you, cheering you on.
You are so loved.