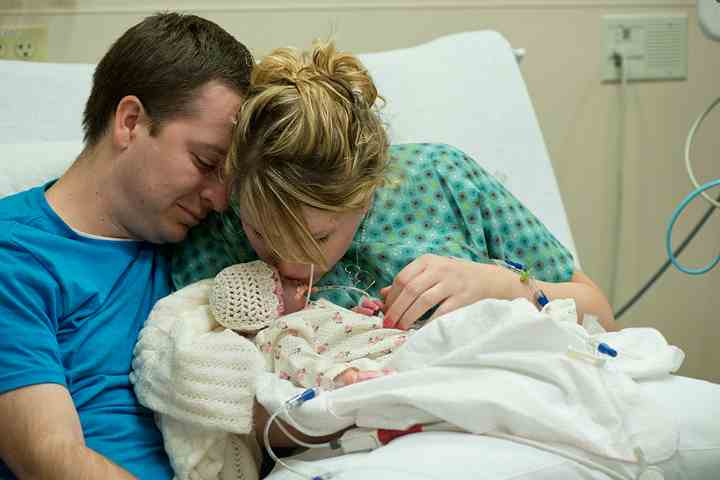 There once was a little girl in our family, born in-between Jack and Owen. Her name is Amelia, and she died when she was a newborn. Today she would have turned TWO, and my heart still aches everyday to hold her (perfect) body in my arms. Happy birthday, dear girl. We're one year closer, and what a sweet reunion it will someday be.
My sweet Amelia Lynn,
Another year has come and gone without you. I try not to think about the "should-have-beens" or the "would-have-beens" but you'd have been TWO, my darling dear! I can just picture your blonde little curls in pigtails and your tiny little hands learning how to grip a marker.
It's been yet another year that we've lived and loved and laughed as a family here on earth without you. Another year that I didn't get to buy dresses and dolls and watch Frozen with you. And maybe part of me just wishes time would stop so your brothers could be little forever, but personally I don't mind getting older. Every year we celebrate your birthday brings me that much closer to seeing you again.
We moved closer to the beach, did you know? I think you would have loved the ocean. We're far from your grave, but you still get visitors every so often. There are so many that love and adore you, but never even got the chance to meet you. We have some incredibly loyal friends, Amelia. Friends who don't quite know what it's like to lose a child, but have compassion and an intense love for you nonetheless.
And Owen. I'm sure you've met your newest brother Owen, and have even spent more time with him than we have. He's a brave old soul, isn't he? He's been the best little baby and we all adore him. Remind him that we love him, would you? Because sometimes I worry he doesn't know that. Sometimes I worry that I think of you too much and he senses it.
I just miss you and what you could have been, Amelia. Owen isn't a replacement for that but it still doesn't take away the heartache of seeing him hit milestones you never would have. Do you ever wonder about that too? About what life would have been like had you stayed here with us?
It hurts too much sometimes. I don't know how or when the pain and anguish will ever go away. I mean, on the surface I'm fine. Our family is fine; your dad is strong and well and so are your brothers. But deep down we know you're missing, and sometimes that just makes me a little too heavyhearted and sad. Sometimes I just need to cry about you, is that okay? Is that normal and good?
I don't ever want to forget you, Amelia. And now that Owen is here and we've made new friends, life has gone on, full-swing without you. People don't know there was a little girl in our family in between Jack and Owen. It's a bitter sting that I know will always haunt me.
But know my love for you runs deep. Your brothers will come to know you, and your father already knows you. I know you, Amelia Lynn, and will never forget you.
Happy birthday, love.
xoxo, Mama