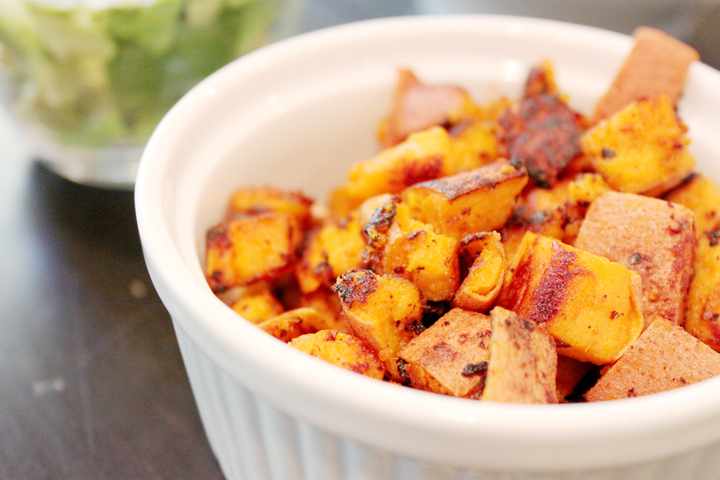 I've been digging dinner that comes in bowls lately. Chipotle bowls, sweet potato bowls, white chili, you name it. To feed my family I've basically been buying staples from the store each week and if we're not feeling pasta, I concoct veggie bowls for us instead.
They always turn out a little different and unique depending on what I use and the seasonings. Last night's was especially delicious. Here's how I made it, in probably twenty minutes or less:
1 | I baked, diced, and lightly pan-fried a medium sweet potato in coconut oil until it was crispy and browned. Set aside.
2 | Using that same pan, I tossed in a variety of chopped veggies – celery, green & red bell pepper, onion, garlic, and carrots. I sautéed these until they were just barely soft.
3 | While all this sweet potato/veggie sautéing was happening, I started a pot of rice. Brown rice would be the better choice (or quinoa!) but we used white because it's quicker. And because that's what I'm capable of right now. ;)
4 | I had cooked lentils from the night before in the fridge, so while everything was finishing up I decided to make my own version of madras lentils.* I tossed some (cooked) lentils, tomato sauce, onion powder (or sautéed onions would be even better!), chili powder, salt, earth balance, and silk soy creamer into a small pan and heated it through. I've also added red or pinto beans in the past, if I have them on hand.
5 | While my lentils simmered and my rice finished, I chopped up an avocado. I serve everything in separate bowls, and then each person can put it all together in a bowl or plate – rice on the bottom, then lentils, and then all your veggies.
*I tasted some seriously incredible lentils at Costco a month or so ago, but upon reading the ingredients it contained a bit of dairy (which we try to avoid). So I made my own, and they're our favorite way to eat lentils now.