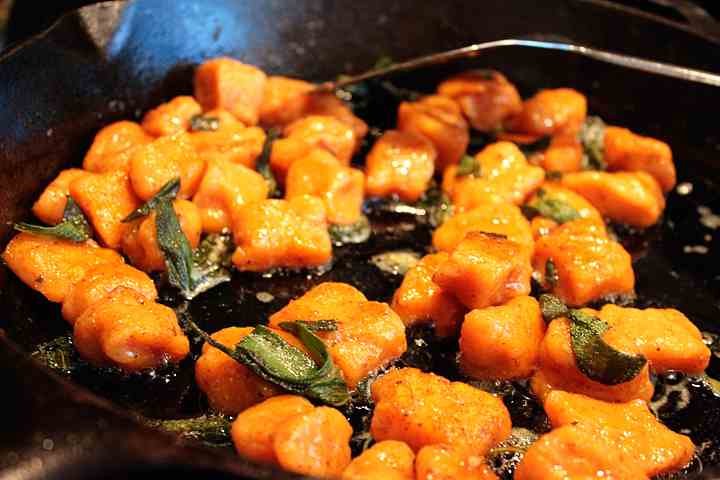 After I saw ten year old kids making pasta from scratch on Master Chef: Junior a couple of weeks ago, I couldn't get it out of my head that I should try it too. It can't be that hard, right? It's just flour and water? (Preteens can do it. Put on your big girl panties, Alie.)
It really wasn't as intimidating as I thought it would be. I don't have a pasta roller (I'd love one though, wink wink) so I figured gnocchi was a good pasta to start out with. It requires no rolling, and you can mix it by hand. I had zero experience with homemade pasta, and even I was able to pull it off, so you can too.
The recipe I used is from my Chef Chloe cookbook so I was hesitant to repost it, but hooray! It's on the Humane Society's website so (hopefully) I'm allowed to share it here as well.
Sweet Potato Gnocchi with Sage Butter
Serves 4 to 6
2 large red-skinned sweet potatoes (about 2 pounds)
1 teaspoon sea salt
1/2 teaspoon ground nutmeg
1/4 teaspoon freshly ground black pepper, plus extra for serving
2-1/2 to 3-1/2 cups all-purpose flour, plus extra for rolling
1/2 cup vegan margarine
1/2 cup fresh sage leaves
Preheat the oven to 425 degrees.
Pierce the sweet potatoes with a fork, place in a baking pan, and bake until fully cooked, about 45 to 60 minutes. Remove from oven and let sit until cool enough to handle.
Using a sharp knife, cut the potatoes in half lengthwise. Using a large spoon, scoop the flesh out of each sweet potato into a medium bowl. Thoroughly mash the sweet potatoes while they are still warm, then set aside or refrigerate to cool completely.
Add salt, nutmeg, and pepper to the sweet potatoes. Add flour, 1/2 cup at a time, mixing well with a spoon to combine. Once a soft, slightly sticky dough has formed, divide it into six portions. Generously flour the work surface and your hands. Roll each portion of dough into ropes about 1/2 inch in diameter. Each rope will be approximately 7 to 9 inches long.
Dip a sharp knife in flour and cut each rope into 1-inch long pillows. If desired, roll each pillow on fork tines to make decorative ridges.
Fill a medium saucepan with heavily salted water and bring it to a boil. In the meantime, heat the margarine and sage in a large nonstick skillet until the margarine begins to bubble.
When the water is boiling, reduce the heat to a gentle simmer and gently drop in the gnocchi, about 20 at a time. The gnocchi will float to the surface in about 4 minutes. Continue to cook about 30 seconds more. Using a slotted spoon, immediately transfer the gnocchi to the skillet of butter sauce. Let cook, turning frequently, for 1 to 2 minutes. You will have to do this in several batches, until all the gnocchi are cooked. Serve immediately, topped with additional freshly ground black pepper.
Note: Uncooked gnocchi can be made in advance and kept frozen for up to 1 month or refrigerated for 3 to 4 days until ready to boil.
My Notes: I pretty much followed the directions here, except for I found mixing the dough with my hands was easier than with a spoon. I only cooked half of the pasta and it was plenty for our family of three. I also used real butter (unless I splurge on earth balance, non-dairy margarine isn't so tasty to me) and cut the amount in half. I browned the butter as I was cooking the gnocchi in it. Also, the sage is amazing. I could eat sage fried in butter all day. :) I served the gnocchi with roasted cauliflower.