Remember ages ago when I really wanted a hairpin leg coffee table?
Unfortunately we only had a tiny balcony patio at that time, so it never happened. But when we moved here to the bay area, we got rid of our Ikea coffee table (which was literally falling apart anyway) and inherited a lovely thing called a GARAGE.
For the past week or so, we've been working diligently after Jack goes to bed. Here's how we made it:
MATERIALS: We picked up some cheap wood at Home Depot. We got a 16′ board of douglas fir and cut it into four equal pieces. (it was $10 total). We also picked up a sander (we recommend this one), a small can of stain, a small can of clear sealer, a cheap brush, some small boards to hold everything together (about 3-4″ less than the width of your coffee table, see picture below) and some wood screws. We ordered hairpin legs from ebay (14″), and I'd highly recommend this seller. His shipping was fast, the legs are about $50 cheaper than everywhere else (!!), and the steel comes finished so they won't rust. He also included plastic tubing to protect our floors, and wood screws. Again, I definitely recommend this seller.
INSTRUCTIONS: First, sand your wood on both sides. It really helps to have an electric sander so you can get the corners smooth and rounded. Next, lay your pieces how you want them. Apply your stain according to the packaging directions. We did two coats on the top, but only one on the bottom. Next, apply two coats (according to the packaging directions) of poly-clear coat.
When everything is dry, sand it down again using a fine paper (220). Lay everything out and screw them together with a drill like this: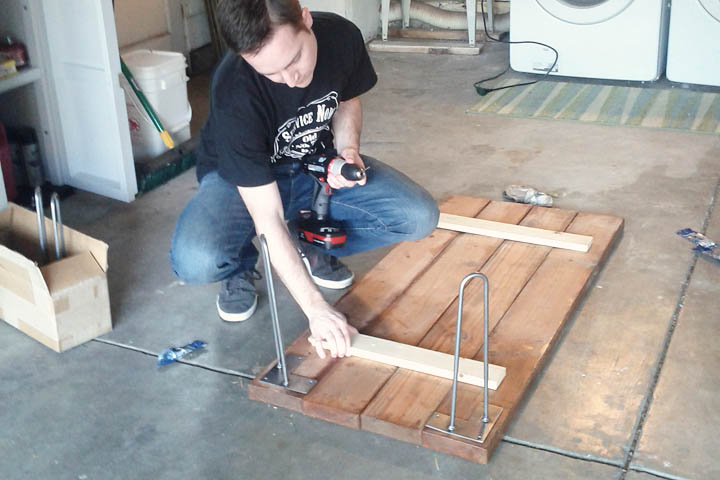 Then screw in your hairpin legs (we made spaced them about 1 1/4″ away from the edges). Clip your plastic tubing to size (I'll probably cut ours down even more), snip horizontally, and snap on.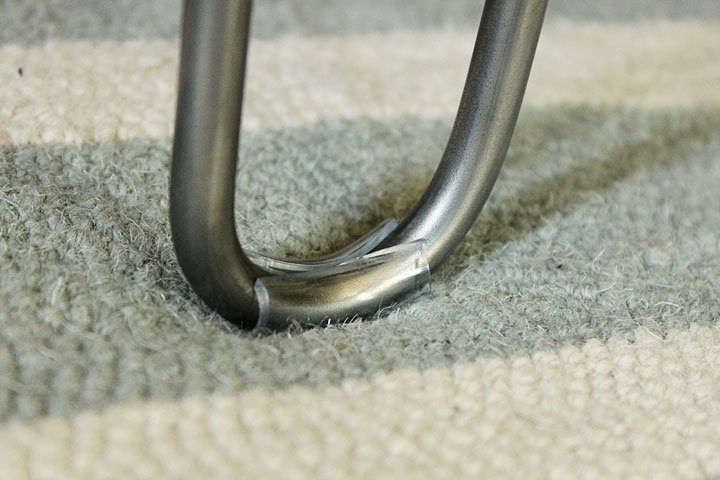 We're super excited and love it. It's heavy and very durable, and it's fun for Jack to sit on. If anyone makes one, I'd love to see your finished product!