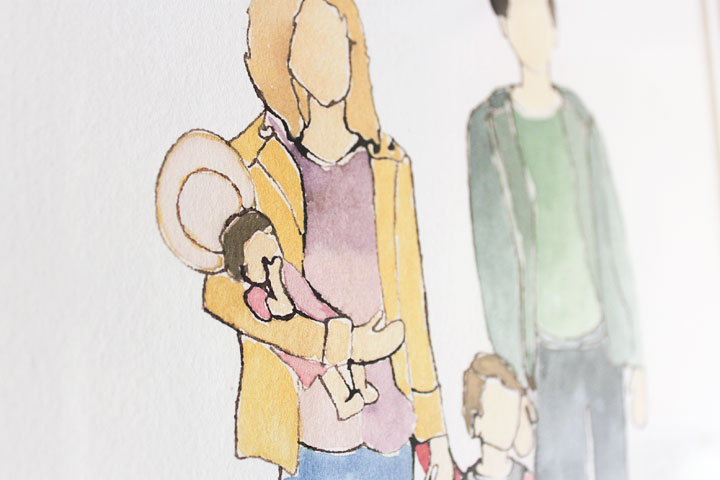 A while ago, I won a custom portrait from Ashley Hoiland (aka ashmae; she also does these amazing temple prints). I was delighted and cried when I found out she would be painting my little family!
But how should we be depicted? Are we a family of three or a family of four? I have always loved family pictures, but I have a feeling I will struggle with them for the rest of my life now. We will always be missing one. It hurts to see our smiling faces, minus one. Her memories will forever be contained to two short days, a little blip of existence in our family's life.
Luckily, that's the beauty of paint. Ashley kindly added a baby Amelia to our picture and just like that, our family was complete again.
The thing Ashley didn't know is what Amelia's hair color was. I didn't even think to tell her, and she ended up painting her with brown hair.
And because of that brown hair, this picture has extra special significance to me. When I was pregnant with Amelia, my family and I all speculated on what she'd look like. Several members of my family (myself included) have had really strong impressions that as a spirit (an adult) in heaven, she has brown curly hair. But when we saw her, we were shocked to see that her hair was white-blonde. Were we wrong? Mislead? It didn't make sense.*
I don't know what color of hair she has in heaven, but in my head she's always been a brunette with the silkiest, long curly locks. And Ashley painted just that on our tiniest little angel. :)
Thank you, Ashley, for completing our family again & for letting me hold my perfect baby forever in my arms.
*Just a speculation here, but I am guessing the reason Amelia was born with white-blonde hair is because of the absence of a full brain, thus the absence of hormones that would make up one's hair color. But then again, my dad was blonde until he was a kindergartner, and has has dark brown hair ever since!