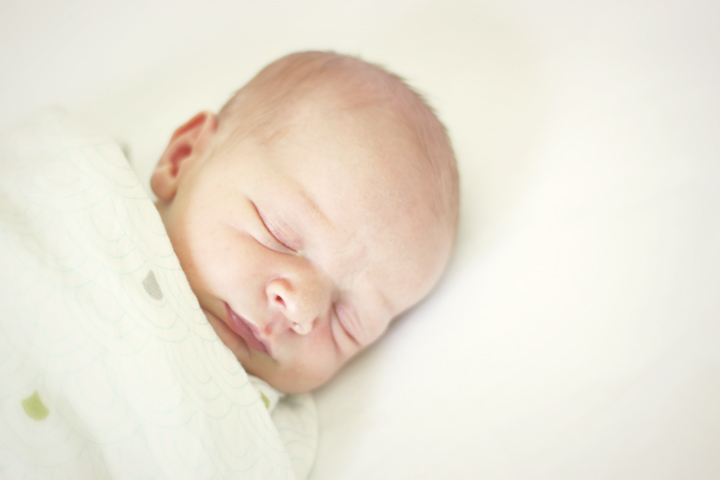 It's been a crazy two weeks! Owen Tyler Jones joined our family here on earth two weeks ago on the full-moon Friday the 13th (of June 2014). I should note that Tyler was especially excited about his unique birthdate — the next full-moon Friday the 13th doesn't happen until 2049! And also, Tyler now calls our baby TeenWolf. ;) He was similar in size to his big brother Jack, weighing 7lbs 14oz, and 21 inches long.
Here's his birth story:
On Thursday morning (39 weeks + 2 days), I decided I was fed up with sitting around at home waiting for a baby.
I had had contractions for at least 12 hours of every day for three weeks, and was exhausted. Was I in labor or wasn't I? If I was already having contractions, how would I know it was the real deal? Shouldn't I know since this is my THIRD baby?! I felt like an idiot, and now I completely understand those mamas who go into labor & delivery multiple times. Been there, done that … ooops.
So I called my mom and she happily agreed to go walk around Ikea with me to kill time. We loaded Jack in my car, and made sure the hospital bag and carseat were loaded too, just in case.
I had contractions while driving all the way down to Ikea, which made my mom a little nervous. I just shrugged them off because it was no different than how I'd felt the past three weeks. But walking around intensified them to the point where I got nervous that there weren't enough exit routes. ;)
When we got out of Ikea an hour later, they were intense enough that we skipped lunch and I had my mom drive us home instead. And when they kept getting stronger on the drive home, my mom finally had me call Tyler and give him a heads up. She was convinced I was in labor, and I wasn't so sure. (Remember, we had TWO trips to labor & delivery the week before). Sometime on the 40-minute drive it was decided by all parties to go straight to the hospital (better safe than sorry!) and have Tyler meet us there.
Tyler arrived shortly after we checked in to the hospital, and my parents left with Jack. To my disappointment, the nurse confirmed I was still 4cm (I was a 2 at 37 and a 4 at 38 the week before) but after checking with the doctor they decided because I had regular contractions to let me walk around and see if I made progress. In that hour, I barely got to 5cm (I was "4-5cm") so they admitted me.
And then we were having a baby and there was much rejoicing.
It was around 4 or 5pm when we finally got settled in the room. I hadn't eaten since 8am that morning and consequently was very lightheaded and dizzy, so we couldn't walk around anymore because I felt like I was going to pass out. I sipped on Sprite, which helped a little bit. They had me set a "labor goal", which I decided was to get an epidural before my water broke.
Around 6pm I decided if I can't walk around to help labor progress faster, why am I enduring through these contractions?! So I got an epidural, and most of the pain went away completely. But I could still feel the catheter and everything every time they checked me, which I thought was odd. (Looking back, this was relevant information I wish someone would have taken seriously.)
Labor didn't really progress. We watched a lot of The Big Bang Theory and HGTV. I tried to nap. If I remember correctly, when they checked me again just before midnight, I was still at 5-6cm. I was so frustrated and wanted to cry! But I told myself (and the nurse) that this is exactly how Jack and Amelia's labors went — walking around or not, with both of them I basically "stalled" at 6cm until my water broke.
The nurse decided to call the doctor in to break my water so we could get this show on the road. So just before midnight, they broke my water and I warned them that according to history they'd see a baby REALLY soon. Everyone laughed and probably thought I was nuts.
Then real, hard labor started. After the cushion from my bag of waters was gone, I quickly started to feel everything. And no one believed me. "You mean you feel pressure, right?" Nope: pain, people! I don't feel pressure, I feel pain!
Soon it was so intense I could barely breathe. I shouldn't have been feeling this; I had an epidural! I kept pushing the green button every time I could, frantic that it wasn't working. I was completely caught off guard. We called in the nurse, who called the anesthesiologist. The numbness had increased on my thighs and upper belly (useless!), but on the inside of me the tingling, burning, throbbing pain was growing worse by the minute.
Tyler helped me breathe and focus through each and every contraction. The intensity and cramping made it tougher and tougher to concentrate and I'm sure Tyler spent a lot of his effort trying to keep me from hyperventilating. The nurse told me to breathe slower, but no matter how I breathed I never felt like I could get enough oxygen.
At some point during all of this I was able to wheeze out, "he's coming!". The nurse checked me — ow! — and indeed, he was literally right there! She then told me not to push (ha!) and held her hand inside of me to keep Owen from crowning. Yes, friends, that really happened, and I kind of wanted to punch her.
She used her other hand to walkie-talkie the doctor with her fancy pager, and informed me "it will be a few minutes" because the doctor was at the other end of the labor & delivery floor. Joy!
From here on it was really all a blur. Tyler kept stroking my hair, rubbing my feet, and telling me what a great job I was doing. At some point the anesthesiologist came, but obviously was a bit too late to the party to be of any help. A few more nurses showed up, the doctor came in with a grin, and I started pushing. I remember being both utterly miserable and blinded by the pain, and just trying to breathe. I was also completely dumbfounded as to how it had gotten to this point so quickly (it had been about a half-hour since they broke my water).
Feeling every part of childbirth (especially when you're not prepared to) was the strangest, most surreal bodily experience I've ever had. I could feel Owen inside of me, descending down and out of me. I could feel his head and broad shoulders as I pushed them out, and then the overwhelming feeling of release as he was born. It was bizarre and yet such an extraordinary process that I can barely find the words to describe it. I can't even figure out in my mind if I actually loved or hated it.
So after two long pushes, Owen's head was out. I recall wondering why the rest of his body hadn't just slipped out like it was supposed to (life is so unfair!), and crying out to the doctor, "just get him out of me!" Seconds later, at 12:34am, his shoulders were free and he was on my belly. We were both crying, blubbering messes, so exhausted and overjoyed that it was finally over and we were safe in each other's arms.
One of my first thoughts was, "My baby is bald. How is my baby bald?! My other two had more hair than this. Are you sure this is the child that just came out of me?" This, thank goodness, was quickly replaced with an amazing, overpowering feeling of gratitude.
Owen was alive, he was well. I get to keep him, and take him home and make him peanut butter sandwiches. I'm the luckiest mama in the world.
All my fears and anxieties were quickly subdued by the reality that we had made it, Owen and I.
I'll admit, life hasn't been smooth in the least bit since we met one another face to face, but we are pushing through it. In short, after delivery I was sick my entire hospital stay. I passed all of my meals to Tyler and felt nauseated and dizzy, and even threw up a couple times. Owen also had a severe tongue-tie (which I wrote about here) which made breastfeeding excruciatingly painful, but we didn't know about it until after the damage was done and I was bruised and bleeding. By the time we went home, I was instructed by the lactation consultants to pump and formula bottle-feed until his tongue-tie was clipped, which didn't happen until he was a week old. This was really difficult for me and my recovering-from-pregnancy/new-mommy hormones, as I couldn't feed my own baby! I cried a lot that first week out of frustration and anger at our slow healthcare system. (Since his tongue-clip, I've been able to breastfeed him, but not without a lot of struggles. But that's for another day.)
And then on Monday morning I woke up with a bad migraine and moaned in bed for hours, while Jack was simultaneously throwing up down the hall. Tyler was on Alie-Jack-Owen duty, and still managed to take 3-day old Owen by himself to his first pediatrician appointment that morning. (I ended up calling my mom in for back-up and she graciously came over to help us for a few hours and made sure we were still alive when Tyler got home.) We recovered from that, and other than the recovery from slightly ripping my stitches (oops!) we've been surviving ever since.
I'm sure there will be more to come soon!